What is "Business Meets Chess & Kids"
An accurate description would be that the business executives are coming together not simply to meet kids but to mentor kids of all backgrounds in a different and exciting way!  In Business Meets Chess, execs use the game of chess as the bridge as a social breakthrough with the intent to impose a positive, gainful and influential mentorship by well-established adults. This is unique to America but has been proven in Europe and Africa!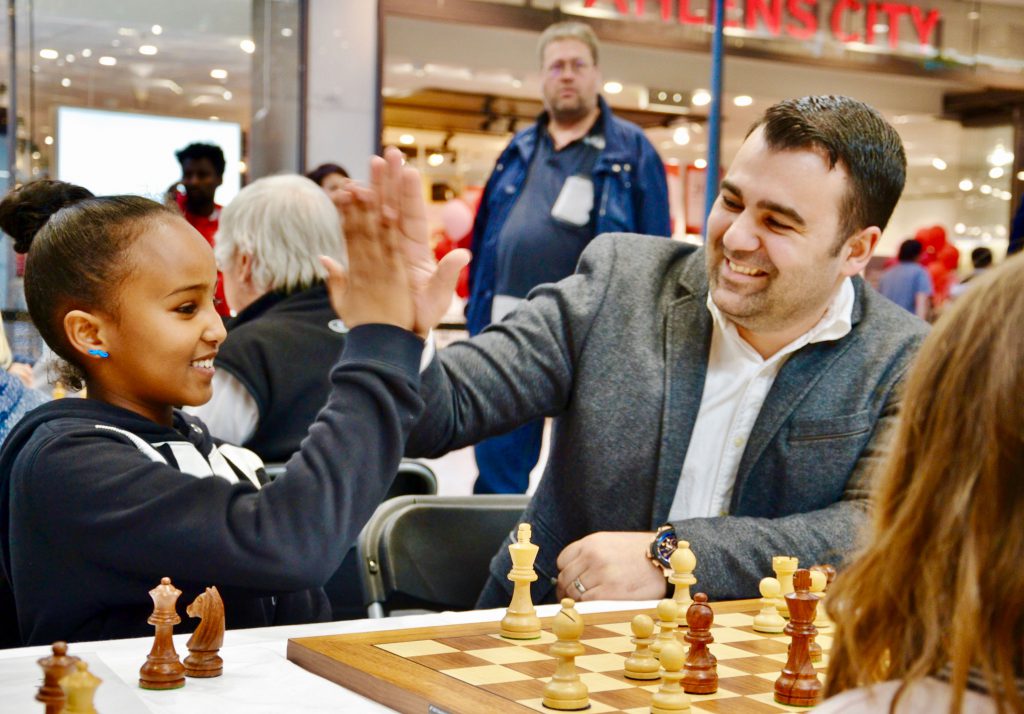 What is the idea of the project?
The goal is the synergy of mentorship. 1 in 3 young people will grow up without having a mentor therefore BMC aims to increase the strength and diversity of future leaders and future executives starting at youth with a focus of kids from underprivileged areas. BMC wants its volunteer executives to cultivate a diverse, inclusive culture and foster connections for future kids and perhaps future employees while create mutually beneficial gatherings across the chess board and beyond! Chess is a great equalizer!
How do we do that?
The mentorship is birthed with a public chess tournament using the fun, exciting rules of "tandem chess" In tandem chess, each youth gets paired with a business executive. Two players challenge another two players, also comprised of a child and an executive. Where's the excitement? In tandem chess means that they must play each other without coaching or verbally communicating to the teammate any moves!
Why a mentorship?
Mentor/mentee interactions are a shared opportunity for learning and growth. Often, corporate mentors say that the rewards and gains are as substantial as those for their mentees, and that mentoring has enabled them to not only have fun, but to achieve personal growth and learn more about themselves while gaining a better understanding of other cultures and develop a greater appreciation for diversity. Some mentors may even experience enhanced relationships with their own children!
Above all, a good mentor is willing to take the time to get to know their mentee, to learn new things that are important to the young person, and even to guide them into life's professional and social expectations.
How it works
The event is usually organized during an afternoon and in a public space like a community center, city hall, shopping mall or a general public square preferably with the partnership or sponsorship of the municipality or city government. Ideally, there should be a networking dinner after the event for all participants, parents and sponsors. Yes of course, the kids will be hungry after all of that fun and the mentor will provide their dinners while the executives chat and get familiar with the kids! In some cases, the executives may decide to mentor several kids rather than one!
This is how it looks like in action!
What happens after the first main event?
The main event results in the executive mentorship.
At the first main event the business executive and the youth will simply get to know each other. The ultimate goal is to evolve together. The mentee gets a picture of professional life at work and at home. The mentor learns and gets an appreciation of the home and academic life of his/her mentee, while helping the mentee to determine the strategy of growth in school and for a future profession. The mentor will agree to meet at least three more times after the initialmeeting:
One time in the youth's home environment/school.
One time at the business executive's workplace and with professional colleagues.
One time at the business executives home environment.
The 2nd main event
The second main event will once again be a tandem chess tournament. The idea behind this setup, is that the participants will then also have the chance to train together, which encourages more volunteer meetings between the business executive and the youth since it will lead to a better chance to win the tournament! (and make their relationship tighter of course).
After the last main event there will also be a networking and awards dinner.
The Participants
How to get the youths
We will gather the participating youths from schools and chess clubs. Each participating youth will get a chess set, access to a chess application and membership in a chess club so that they can practice chess and through the project develop their concentration abilities, problem solving, strategical abilities, calculation skills as well as logical and critical thinking. All abilities that will be very beneficial, both in chess and life.
How to get the business executives
The business executives will be invited to participate, but we need help to find you! So, if you like chess and would like to participate do not hesitate to contact us at info@businessmeetschessandkids.com
To participate you just need to know the rules of playing chess. That's it!
All participating business executives get a chess set (preferably tournament style), access to a chess software application and membership in a chess club. This is important so that they can practice chess and improve their strategical abilities which is a great benefit in the trade and industry as well!
Sign up
If you are interested in participating than please contact us:
info@businessmeetschessandkids.com
Taurus Bailey (901) 550-0449
Ken Mask (504) 908-0337